Aquarius is one of the main characters in the AstroLOLogy animated series. He appears to be a cyan water bottle-shaped humanoid with blue straps on his body and forehead and water-like hair on his head. He first appeared in the episode "Scent-o-logy" in the 2018 series. He is voiced by Hashir Haizai Hailmi. He was under the name of Albert during the 2016 shorts.
In the Japanese dub, he is named Game-kun (がめくん) and is voiced by Tadashi Hasabe (長谷部 忠).
Character Description
Aquarius is determined to improve everybody's quality of life through scientific and technological innovation ... which would be great if he was a genius, but he isn't. Always surprising, Aquarius is constantly coming up with crazy new ideas in his R&D Laboratory; sometimes his results are amazing, though most often they are hilariously disastrous.
Personality
He appears to be smart and creative with his ideas and is very curious about what he sees. When his inventions are about to fail, he gets mad every time when it gets into trouble.
Birthday
He is born around January, as seen in "Scent-o-logy".
In Real Life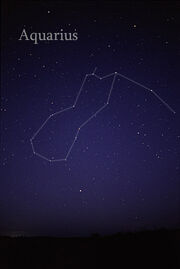 The constellation of Aquarius shows a person pouring water out of a jug. It is thought that the story behind this group of stars is that of Ganymede.
Ganymede was the son of king Tros, after whom Troy was named. The young prince was the most exquisite and handsome youth that ever lived, and was adored and admired by both gods and mortals.
Zeus, who was especially fond of beautiful people, was totally infatuated with Ganymedes's external appearance. Thinking it would be appropriate for so handsome a mortal as Ganymede to live with the gods, the mighty god disguised himself as an enormous eagle. He then flew down to Earth, captured the handsome youth and brought him up to Olympus.
Up there on the heavenly palace, Zeus had to find a job for his young protegee. So, he decided that Ganymede should be given the special honor of being his personal cupbearer.
The position was considered to be highly distinguished, since the person who was assigned the duty of the cupbearer, was responsible for pouring into the glasses of the olympians the divine drink called nectar. This was the special drink that bestowed on the gods their eternal youth and vigor.
Zeus was forever fond of his cupbearer. So, he honored him by giving him a prominent position on the greek zodiac, as the constellation of Aquarius.
Trivia
He is the first character to appear in the entire series.
His name "Albert" is likely a reference to Albert Einstein, one of the world's most famous scientists, who is renowned for relativity theory and his contribution to quantum physics.