"Pisces Wows the Audience" is the 38th episode of AstroLOLogy season 2. It is the 2nd part of the Astrordinary Talent Show chapter and the 182nd episode overall.
Characters
Plot
The curtain parts to show Pisces, who taps her microphone and prepares to sing, only to suddenly throw it away and start dancing and singing an upbeat song. Aries isn't impressed and hits his buzzer, which saddens Pisces and she drops to the floor as snow falls. She gets up and begins singing a sad song, which still doesn't move Aries but brings Leo to tears, but he then accidentally hits his own buzzer. Enraged, Pisces puts on a heavy metal guitar performance, the force of which quite literally blows the judges away as Capricorn attempts to hit his buzzer, but gets thrown back before he can. As Pisces stops, she notices that the judges are gone and chuckles.
During the fortune message, Pisces continues playing her guitar.
Fortune Message
"When Pisces takes the stage, rest assured she'll blow audiences away."
Storyboard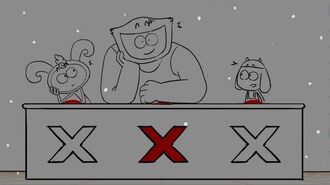 Community content is available under
CC-BY-SA
unless otherwise noted.